Know The Learner Driver Rules UK
If you have decided it's time to learn how to drive, then you have come to the right place for a learner licence UK. Learning how to drive can be exciting but challenging. Our main goal is to help learners like you and teach you how to drive safely and responsibly.
From learning how to drive and understanding the basic learner driver rules UK, we cover everything you need to know to get your licence. We have practice training sessions for each part of the test including a multiple-choice driving theory test, a hazard recognition test and a practical driving test.
Driving lessons UK can be quite costly for some schools – but that's why we're different. We offer driving lessons for as low as £18 an hour, plus a FREE 2-hour lesson upon booking.
Book Online And Get A FREE 2-Hour Session!
Cost of driving lessons UK does not have to be expensive. Our driving school constantly has special offers for each season. Be on the lookout for our amazing discounts and packages to help you learn for less.
You can learn to drive in one of the most reliable driving schools in the UK for an affordable price of £18 per hour. Simply contact us through our contact form and follow the steps to book your driving lesson.
Over 1,000 Qualified Instructors To Help You Get Your License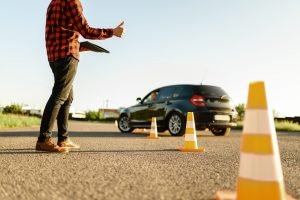 You are in good hands with our qualified DVSA registered instructors. We have over a thousand instructors nationwide to help you on the road and gain some much-needed practice on driving safely. So, you can drive a car, a motorbike, or any vehicle with confidence.
Affordable Driving Lessons In The UK
We offer affordable rates of £18/hour with free 2 hours of training, at no extra cost. It's more inexpensive compared to other driving schools which charge £23 or higher.
Why choose to learn with us? We are licensed and approved by the Driver and Vehicle Standards Agency (DVSA).
Our customer service support is top-notch. We always have friendly and professional customer service agents 24/7 who are ready to assist you with your queries and concerns. If you have questions about getting a licence or booking a lesson, simply contact us via email.
More than just driving lessons, we also help with information on learner driver rules UK, learner plates, insurance and more.
What Our Students Say About Us
My instructor was just really amazing. He was very professional and gave me a lot of tips. Could not be happier and sure was the best decision choosing this driving school.
Just booked and had my first free hour lesson. My instructor was nice and really made me feel calm and removed my anxiety in driving. Thank you so much for a comfortable lesson.
I passed! The theory practice tests were very helpful. I was impressed by the professionalism of the instructors. It was easy to change my schedule when I needed to. Thank you!
Get your certificate after passing our extensive learner driver rules UK test.
We offer certificates for passing our practise theory tests
Our learners guide is packed with information to help you gain in-depth knowledge for your theory test and driving test.
After your training, we will give three practise tests to help you get a sense of the real driving test.
If you pass our multiple-choice driving theory test, hazard recognition test and practical driving test, we'll award three certificates. However, these certificates will not serve any purpose for your license application. When you're ready to get a UK learners licence, be prepared to pay £23 for the theory test and £62 for the driving test for your licence application.