Affordable Driving Lesson Plans In The UK
Welcome to Driving Basics UK – a team of experts who can help you achieve your dream of earning your driving license in as little as 48 hours. Our tutorials go through the fundamentals, from car controls to learning to drive roundabouts, to ensure you are safe and confident behind the steering wheel.
Our beautifully simplified driving lesson plans are DVSA compliant and aimed at ensuring that you leave our stables a master. We understand that our clients have diverse learning preferences and structure our lessons accordingly. By engaging our service, you are assured of premium service by friendly, patient, experienced, DVSA certified experts.
We can provide driving tutorials at any of our centres across the UK or a suitable location of your choice. However, our curriculum makes joining a motorway on the third driving lesson mandatory.
Contact Driving Basics UK Today
Get A 2 hour Driving Tutorial Absolutely Free!
Whatever you need, driving basics UK has got you covered. We have detailed tutorials and guides to help learners, young drivers, and new parent drivers build their skills, awareness and confidence.
Training is carried out in manual and automatic vehicles to ensure that nothing is left out from learning about car controls to blind spots. Still in doubt? Contact today for a free 2-hour driving course and discover why we are a popular choice.
Learn from qualified professionals at the most competitive rates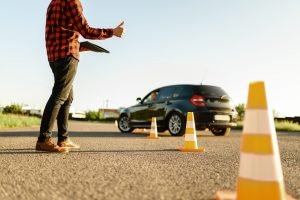 It is our firm belief that our experts should be a true representation of who we are. That is why our driving instructors are regularly evaluated and retested to ensure that they maintain the highest standard of professionalism. You are assured of premium driving instruction to help you get your license.
Here is an incredible opportunity to get the best qualified driving instructors in the UK at the most competitive rates.
Working with us will give you complete freedom to choose instruction tailored to your learning preferences while staying DVSA compliant.
Want to learn how to pass your theory and hazard perception tests? We have a comprehensive repository of information and practice theory tests using official content from the DVSA to help you prepare for your exam. Once you can consistently pass your practice tests, you can confidently book your driving test.
All driving lesson plans provided by us are in strict compliance with and approved by the DVSA.
Here Is What Our Customers Have To Say
My major challenge when I first signed up was staying confident on the road. I was always uneasy and panicky when driving. Realising I needed a new tutor, I signed up. Today, driving on busy motorways is easy and I can only say thank you.
They are good! The first thing they do is work your psyche, gently nudging things up as you progress. Their curriculum is rich but so simplified that a slow learner like me could get my driving licence on my first attempt.
Please use Driving Basics UK for intensive driving. As someone who failed two previous driving tests, I cannot overemphasise this. Pressed for time, I needed to get done with the test within two weeks, and the instructor assigned did everything possible to ensure that I passed. And pass I did!
DVSA Approved Driving Lesson Plans
Let Qualified Professionals Guide You
Our learners guide is prepared by experienced DSA Approved driving instructors and vetted by the Driver and Vehicle Standards Agency for compliance.
Unlike other schools that use PDIs, almost all our driving instructors are the more advanced Approved Driving Instructors (ADI). We also have Skid Control Instructors and DIA members among us.
At Driving Basics UK, we aim to help you improve your driving skills in all aspects. We start by building up your confidence – the backbone of driving – to driving controls and navigation. We aim to help you fulfil your dreams of becoming a fully licensed driver and experience the freedom driving brings. Your search ends here.